Lately I have discovered natural mineral makeup. People who sell this stuff claim that the norms in the commercial world are toxic and we absorb these things in our blood stream. I believed these statements after perusing some ingredient lists and running some of them through Wikipedia. I am an avid makeup wearer, and it's amazing the amount of these chemicals I have been putting on my face all these years. To start combating this problem, I've just ordered some lovely samples from etsy seller
www.theallnaturalface.etsy.com
This experience led me to think about what other toxins I am exposing myself to voluntarily and what is my sensitive son with autism being exposed to in our home? If food additives and pollution can bother him, what is he absorbing into his bloodstream through his skin?
I can only attack a question like this bit by bit. My main focus lately has been soap. I have been searching for a natural supply of soap that is affordable for us. The natural food store has some, which are kind of spendy. I love the handmade soaps on etsy, but I can't always afford the $5 a bar plus shipping. I was thinking of learning how to make it myself. I have been reading a book called Essentially Soap by Dr. Robert S. McDaniel. He has some great recipes I want to try someday. Also in his book he explains how during WWII the oils and supplies to make soaps were scarce, and so synthetic detergents were used, and it has remained that way to this day. So I have been washing my son with synthetic detergents. Great.
Making my own soap would require quite an investment in materials and having enough time Eli-free to handle the dangerous lye without him around. Those things are not happening right away. For the long term plan, I still intend to be a soaper, so watch out friends, you may be the unlucky recipient of mysterious samples. :)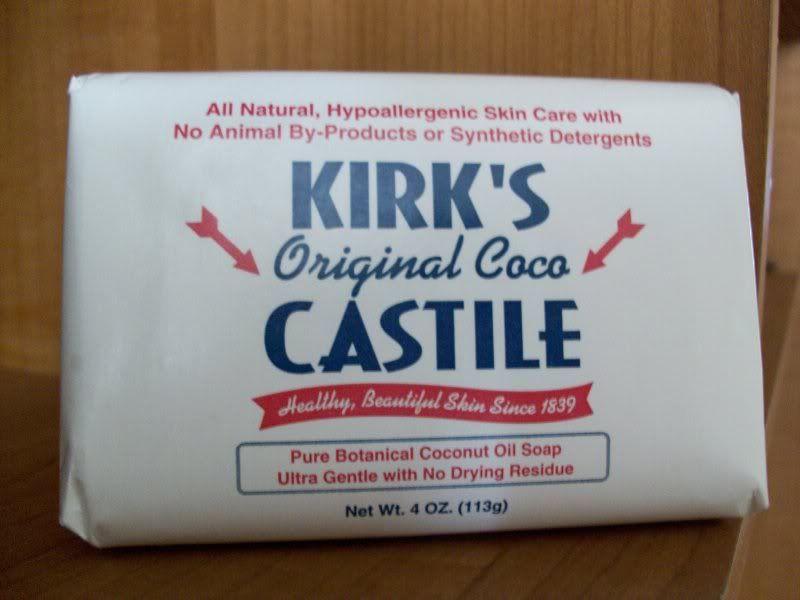 Just when I was getting frustrated, I found this bar at my local Macey's grocery store. It was 99 cents! It is Kirk's Original Coco Castile. Castile means it is made with plant based oils. I wish they would name it something else, because if I hadn't known the word Castile, I would have looked over it easily. I washed with it last night, and it was NICE. So much lather and moisture, something a synthetic soap cannot give. Here are the ingredients:
Kirk's natural formula includes: Coconut soap, water, coconut oil, vegetable glycerin, natural fragrance.
Good bye Lever 2000, we are never going back.
I'm sure I'll be continuing this topic in another post, because trying to rid your home of chemicals is a big task!