I have heard that persons with autism should only eat organic foods. My thought was, that's nice, but who can afford that? I began washing our produce with special wash from the health food store and took pride in the fact that I had washed off waxes, sprays, and other contaminants.
I recently read this book: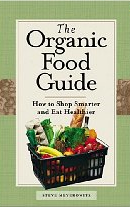 The Organic Food Guide: How to Shop Smarter and Eat Healthier
by Steve Meyerowitz, and it's a great find on Amazon for under $10.
For being a short read, it explains a variety of topics concerned in the choice of whether or not to buy organic. I found the chapter on labeling very helpful. He tells the many reasons organic foods are better for us, and why all those nutrients in healthier soil makes the food taste better.
I took it for a test. I have been buying organic apples for weeks now. I can honestly say that I enjoy apples more now that I have found apples that are generally better tasting. Knowing I am avoiding chemicals and contaminants probably doesn't make them taste worse, either. :)
Now I want to buy nothing but organic. It is true that it does not always happen. Organic varieties are not always available, or always affordable. However, my family and I are taking steps to make it more of a priority to buy organic. Right now it is all of our produce, plus other products here and there. Here is a little collection from my own kitchen.
My efforts to provide organic foods for my family are in an effort to lessen the chemical burdens on my son. I believe that his predisposed little body contracted autism under the burden of environmental contaminants. Anything I can do to lessen the load on his sensitive body makes him a happier boy.