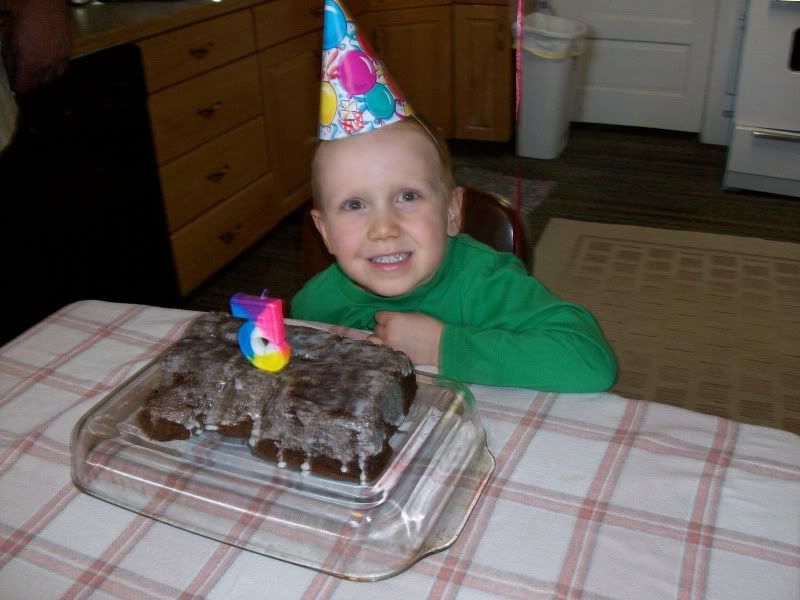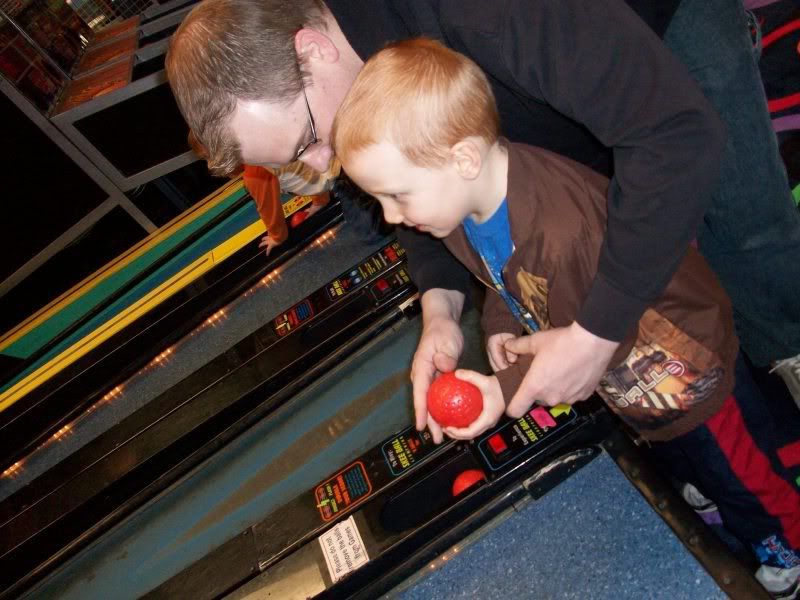 After having a bit of technical difficulties, it is so great to be able to post a couple of pictures of Eli's birthday from earlier this month. He was so excited about his birthday this year. I wrote it on the calendar for him, and he showed everyone that came to the house his birthday on the calendar.
Eli read a book about Thomas the Tank Engine's birthday about a week before his. He decided that because Thomas had balloons and silly hats for his birthday party, that he needed them for his birthday party, too.
The desserts we have for birthdays at our house always require a bit of planning. Usually we avoid sugar for him like the plague, because his stomach is so sensitive to it. For birthdays among the three of us, however, we make an exception for small portions of the birthday treats for him. They are always GF/CF, of course.
If you were looking at his cake closer and right-side up, you would see it is a homemade cake with a simple glaze that was baked in pan the shape of a simple train engine. I found the recipe for his cake in my cookbook, "Cooking Free" by Carol Fenster. The recipe is called "Apple Spice Cake." I chose this one because it was lower in sugar than the other recipes I saw. Of course, like always, I made it my own way by eliminating walnuts and raisins and adding a small can of crushed pineapple. EVERYONE complimented us on the cake, not just my sister in law with celiac! It was moist and yummy! We served it with Bryer's all natural vanilla ice cream and we had a small serving of Berried Treasure sorbet from Ben and Jerry's for Eli.
Another fun thing we did for Eli's birthday was take him to the arcade. Yes, that was major over-stimulation, (he was jumping up and down excited!) but he had a blast and had no melt downs. Here's a pic of his dad helping him play skee ball for the first time. We played everything, even air hockey, (where he would score on himself and then say, "I did it!") Near the end he had singled out the racing games as his favorite. Some of them were car racing games and some were motorcycle ones. That's my five year old. All boy!
Eli's birthday was a reflective time for me. When my husband and I got married, we figured that by the time we had a five year old we would probably live far away from our college town, own a house, and have more than one child. In our family we are constantly reminded that life simply does not always happen the way we plan it, and it is ok. Life is much more like a journey than it is a destination, and we have so much joy in that journey together!